Reviewer 9 - YGC Financial Alchemy - Turning Gold into Lead

There has been great coverage of the scathing and damning report issued by the Securities and Exchange Commission last week. With the report out, we thought it might be useful to provide illustrations so that the readers can appreciate the mutilation that PPI has undergone. To paraphrase the SEC report, there really is no need for rehabilitation as PPI.

From One Fund Into Two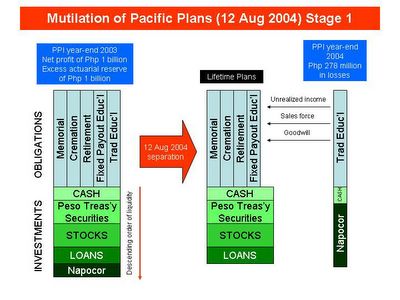 At the risk of being repetitive...
CALLING the CENTRAL BANK
...
What were the trust managers thinking when they agreed with PPI and stuffed the traditional plans pool with Napocor Bonds? They had already declared to the SEC that they were going to put liquid instruments and / or cash to backstop traditional plans. (RECALL THE APRIL 22 DONG PUNO show where Mr. Jose Cuisia stated that his company's policy was to ensure that the majority of their assets were government securities and cash -- sorry NAPOCOR bonds don't cut it).
GPL Black Hole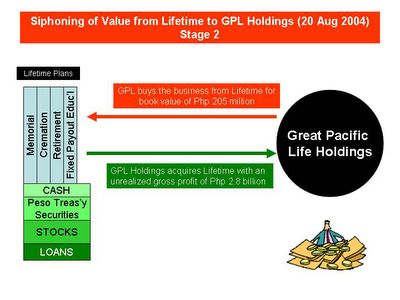 GPL Holdings is the big black hole and has sucked up all the value created by the original PPI. We also need to point out that the original PPI was a crown jewel subsidiary of Grepalife. In turn Grepalife is owned by House of Investments, a publicly listed company.
CALLING INSURANCE COMMISSION:
Are Grepalife minority shareholders aware of the mutilation and measly monetary consideration that they got in exchange for the engineered series of sales involving PPI and the subsequent evolution into Lifetime, GPL Holdings, and Exemplar.
CALLING PHILIPPINE STOCK EXCHANGE:
Mr. Peter Favila should mount a major investigation. The SEC report is extremely troubling and raises serious corporate integrity and governance. The trust activities of a listed bank (one of the PSE's clearing banks, we believe) raises questions as well as the potential lack of proper valuation regarding related party dealings between or among the investee companies of HI.
We know it is ticklish to ask good friends or relatives at YGC all of these tough questions. However, to quote High Noon, "a man's got do what a man's got to do".